Dear Community,
Our Team is growing and we have some awesome people sharing our vision!
We are excited to let you know that 2 awesome drivers joined NowFarms Team!
Luciano will start on his own this upcoming week.
Alicia is in training, and will be on her on in a week or two.
Both are making great addition to NowFarms!
You will have a chance to meet our new drivers this week.
Brooklyn route might be on Wednesday this week, and most likely the next couple of weeks.
You can always reach out to us with questions about delivery or anything else.
Prayers that everything goes smooth!
What's NEW:
Organic Lemons!
Radishes - first of the season!
Green Cabbage
Red Beets
White Mushrooms
Sweet Onions
Red Grape tomatoes
Jerusalem Artichokes on SALE
Green Fancy Zucchini
Raw Fermented Green Sauerkraut
Red Russian Kale
Collard Greens
Duck eggs - organic and soy-free!
Parsnips
Red Beets
Duck eggs are in!
Sourdough Bread is fully stocked.
Ginger
Raw Honey
Grass fed, fully pastured organically raised beef from Burkholder Fam.
Fresh Sheep's milk is back.
Ghee
Sweet Chocolate Sourdough Friendship breads from JH farm
Organic Healthy Chocolate Snack
Purple Top Turnips.
Carrots
Enjoy the abundance of colorful Sweet Potatoes
Local NOT Waxed Apples
Apple Cider
The best toffee is in! Now available in 1 pound Holiday Gift Tins too!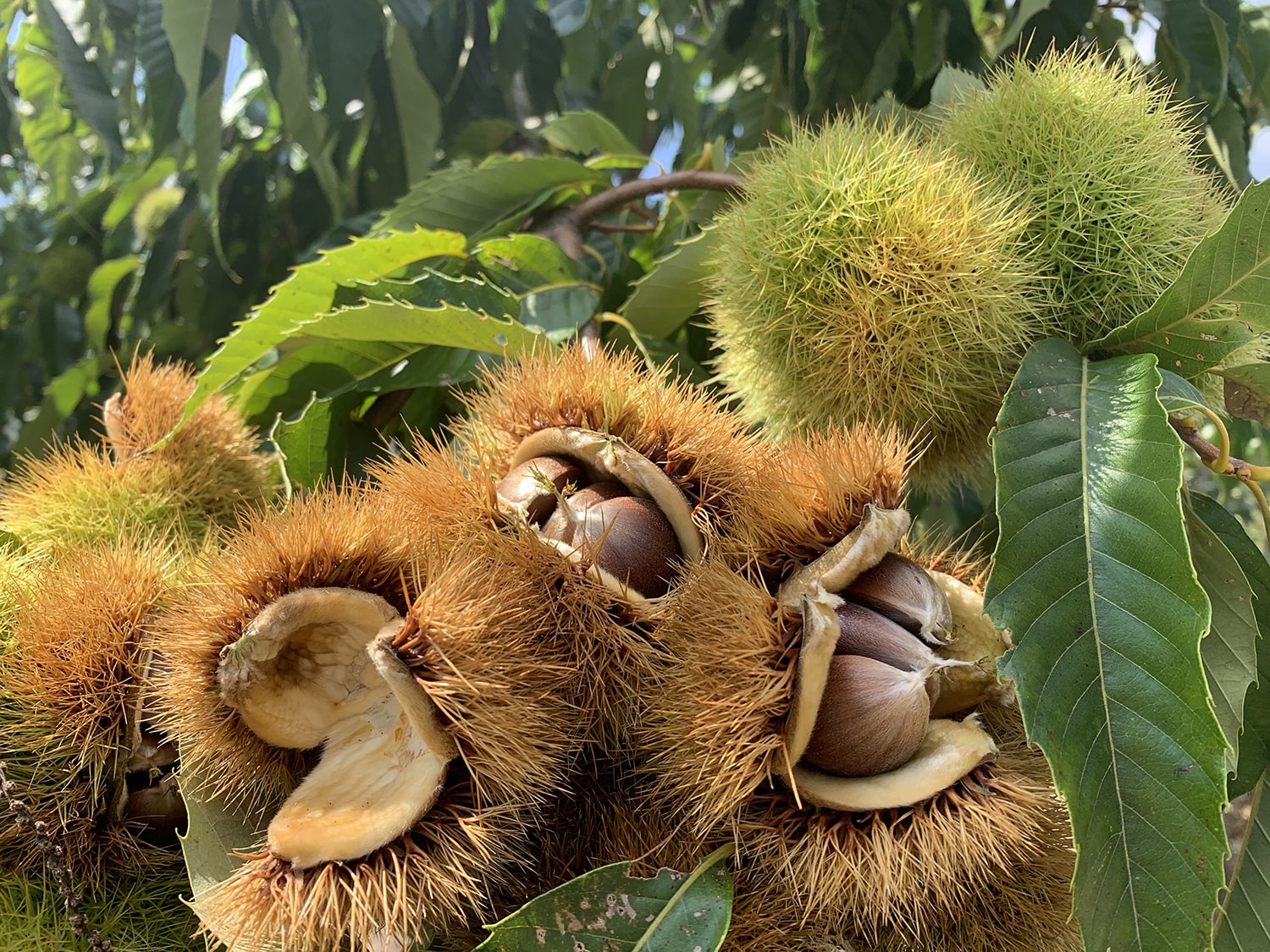 The American Chestnut. Credit: The American Chestnut Foundation
SAVE THE DATE!
We are so excited to announce NowFarms very 1st tree planting event.
Please join us for Earth Day celebration day, Sunday,April 2nd at 11 am
At NowFarms
6209 Hickory Rd
Slatington, PA 18080
We will be planting American Chestnuts Trees, roses, and some other beautiful seedlings and plants.
American Chestnuts are native trees in Pennsylvania and we are so happy to plant them right here!
We'll have music, potluck, bonfire to celebrate Spring and our beautiful community.
Please bring a potluck to share, musical instruments, mats and/or chairs, gardening tools if you have.
Most importantly, bring your smiles and positive energy!
Please RSVP by replying to this email, so we know how many people to expect.
More information will follow.
PLEASE CONTACT US WITH ANY QUESTIONS! WE ARE HERE TO HELP!
PLEASE SUPPORT FAMILY OWNED BUSINESS AND
YOUR LOCAL FARMERS, THIS IS ESSENTIAL, MORE IMPORTANT THAN
ANYTHING ELSE. NOW THAN EVER BEFORE.
FROM ALL OF OUR FARMERS
AND NOWFARMS FAMILY - THANK YOU!!! WE ARE GRATEFUL FOR
YOUR SUPPORT EVERYDAY.
WE ARE STILL ON FB, BUT TRANSITIONING TO MEWE, TELEGRAM, AND SAFECHAT.
WE WOULD LOVE TO SEE YOU AND STAY CONNECTED!
SHARE YOUR RECIPES, IDEAS, AND/OR JUST TO SAY HI :) WE NEED A STRONG UNITED
COMMUNITY! STOP BY AND SAY HI. SHARE YOUR BEAUTIFUL MEAL
CREATIONS. ASK QUESTIONS... SHARE ABOUT THE SCHOOL SITUATION.
WE ARE HOMESCHOOLING! I'LL BE HAPPY TO SHARE EVERYTHING I
KNOW...

HTTPS://WWW.FACEBOOK.COM/GROUPS/BUYINGCLUBNYC/

HTTPS://WWW.FACEBOOK.COM/FARMFOODPA/
STAY HEALTHY, HAPPY AND FREE!
NOTE: IF YOU PLACED AN EARLY ORDER AND WANT TO ADD SOMETHING LATER YOU WILL STILL KEEP THE PRIORITY ON THOSE
ITEMS THAT YOU ADDED LATER.
IF YOU WOULD LIKE TO ORDER A SPECIFIC PRODUCT AND DON'T SEE IT ON THE WEBSITE, PLEASE CONTACT US AND WE'LL TRY GET IT FOR YOU!
YOU ARE RESPONSIBLE FOR THE PROMPT UNPACKING OF SHIPMENTS. WE ARE NOT RESPONSIBLE IF YOUR ORDER IS STOLEN, DAMAGED OR THAWED AFTER IT IS DELIVERED TO YOU.
MEATS ARE DELIVERED FROZEN AND WILL ARRIVE FROZEN OR REFRIGERATED. MEATS THAT HAVE THAWED BUT ARE STILL COLD CAN BE REFROZEN IMMEDIATELY WITH NO LOSS OF QUALITY FOR LONG-TERM STORAGE.
We do not accept returns of any items that have been opened - unless damaged or spoiled and within 48 hours. Taste preferences are not an allowable return excuse. Any food we sell frozen has a stop expiration date while frozen. Best Sold by dates are recommended best sell by, but are NOT considered expired. We pride ourselves on fresh products.
PLEASE ORDER FRIDAY-MONDAY 7 AM (ITS THE BEST FOR US AND FARMERS TO HAVE TIME TO PREPARE YOUR ORDERS). WE WILL ACCEPT LATE ORDERS TILL MONDAY 5PM , BUT CAN NOT GUARANTEE AVAILABILITY.
WE ARE WORKING WITH SMALL FAMILY FARMS, SOMETIMES SOME PRODUCTS BECOME UNAVAILABLE, WE'LL TRY OUR BEST TO SUBSTITUTE WITH SOMETHING SIMILAR, IF POSSIBLE. IF YOU OR ANYONE IN YOUR FAMILY HAVE ANY ALLERGIES AND/OR RATHER WOULD NOT US TO SUBSTITUTE WITH A SIMILAR PRODUCT, PLEASE LET US KNOW.
Also, the name on our Venmo account changed.
MINIMUM ORDER IS $50 FOR MOST AREAS. PLEASE CONTACT US TO FIND OUT ABOUT YOUR SPECIFIC AREA. IF YOU NEED TO ADD TO YOUR ORDER, SIMPLY PLACE AN ADDITIONAL ORDER. DELIVERY FEE IS $10.
IF YOU ARE NOT HAPPY WITH THE PRODUCT YOU RECEIVED, PLEASE LET US KNOW. WE'LL MAKE IT RIGHT. IF YOU LOVE OUR SERVICE AND THE PRODUCTS, PLEASE LET US KNOW TOO. WE WOULD LOVE TO HEAR ABOUT YOUR EXPERIENCE, SUGGESTIONS, IDEAS, OR ANYTHING ELSE. WE LOVE WHAT WE DO AND WE LOVE COMMUNICATING WITH OUR CUSTOMERS! DO TALK TO US :) You are part of the Club!
THANK YOU ALL,
NowFarms & CO.
PHONE 484-262-9196
"EACH DOLLAR THAT YOU SPEND, YOU VOTE FOR THAT PRODUCT TO BE MADE"